News
NOVEMBER 2017
Niben secrets unlocked: Friederike Grosse-Holz published her extensive datasets on the transcriptome, extracellular proteome and active secretome of agroinfiltrated Nicotiana benthamiana in Plant Biotechn. J.
OCTOBER 2015
'Springwalk' in Chiltern.
A beautiful hike in the autumn forests of the Chilterns to Nettlebed and back, 35mins from Oxford. Some trees were irresistible...
NOVEMBER 2017
PhD position available for BBSRC-iCASE, together with Leaf Expression Systems in Norwich on 'Mechanisms underlying improved molecular pharming by protease inhibitors'. More information.
OCTOBER 2015
Kyoko

runs the Oxford half-marathon
Kyoko

Morimoto broke her personal record by crossing the finish within two hours (at 1:59:59, to be exact). Congratulations!
NOVEMBER 2017
Highly Cited Researcher 2017! Declared by Clarivate Analytics (web of science). There are only 15 UK researchers in the field of Plant & Animal Science awarded with this title. For the full list, check here.
AUGUST 2015
In Current Biology: Functional divergence of two secreted immune proteases of tomato. We show that Rcr3 and Pip1 are paralogous proteases that differ in their expression levels and exposed surface and diverged >36 mya. Pip1 is an important immune protease acting against unrelated apoplastic pathogens, while Rcr3 is a co-receptor for pathogen-derived inhibitors, playing a minor role in the absence of immune receptor Cf-2. Click here for more information.
OCTOBER 2017
Top personal records at Oxford half marathon! Maria (2:01:23), Judith (1:57:49), and Friederike (1:52:06). Well done, athletes!
JULY 2015
NEW: On-line probe target library. We have assembled all our published probes, experiments and probe targets in a searchable database. Click here to search for labeling conditions, probes or targets.
September 2017
Best seminar award!
Jiorgos Kourelis gave the best PhD seminar the Oxford Congress of Plant Sciences!
June 2015
In Plant Physiology: NEW probes for Cys protease subfamilies!
We introduce new fluorescent probes for three subfamilies of Cys proteases: aleurains (ALPs), cathepsin B's (CTBs) and vacuolar processing enzymes (VPEs). These probes are widely applicable and display unexpected dynamics of Cys proteases during seed germination. See Lu et al., Plant Physiol. in press.
May 2015
Fascination of Plants Day
Judith, Luisa and Bala entertained the public (and themselves) by infiltrating plants during the Fascination of Plants Day (May 18) at the Harcourt Arboretum. Read here the article in The Oxford Times.
July 2017
New EU Grant: 'Newcotiana'
A new EU grant has been awarded to the Plant Chemetics lab as part of a larget Horizon 2020-funded collaborative grant coined 'Newcotiana' on improving Nicotiana species for Molecular Pharming.
April 2015
Exciting new projects for university students!
For biology/chemistry students for periods of 3-9 months on a diverse range of topics and using a broad variety of techniques. Please see the flyer for more information and contact Renier van der Hoorn for more information.
Interview Plant Chemetics Lab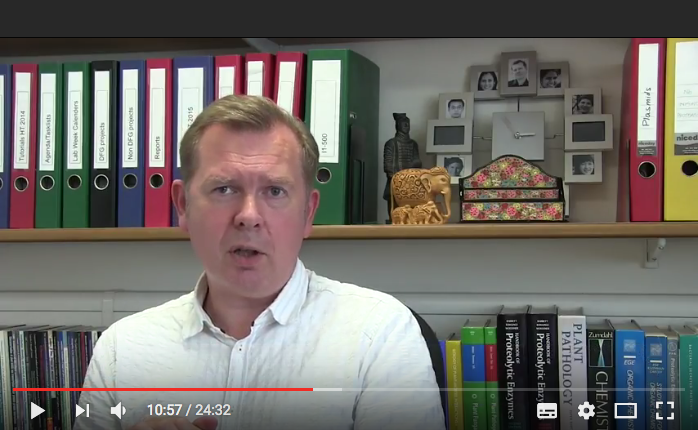 March 2015
COST Meeting Chemical Proteomics
12-14 April 2015, Oxford
We are organizing the COST Meeting on Chemical Proteomics under the title: 'Mining the Chemical Proteome: Target discovery using chemical probes and their application in medicine and biology'. We have scheduled 25 speakers, 35 poster presentations and have over 100 participants. For more information, please download the flyer or program.
MARCH 2017
Four new team members run the Teddy Hall Relais under the team name 'Running buffers'! Excellent time!
October 2014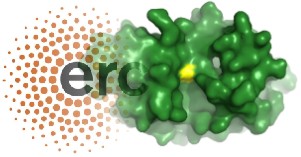 GreenProtease project has started!
This ERC-funded project has started with the arrival of Dr. Luisa Madeira in October. Friederike Grosse-Holz and Dr. Daniela Sueldo will join the GreenProtease team in November and January, respectively. Together they will unravel the proteolytic machinery of Nicotiana benthamiana by protease depletion to improve recombinant (glyco)protein production and elucidate the roles and substrates of the plant proteases. Welcome and success!
JANUARY 2017
NEW: Subunit-selective proteasome probes. Activity profiling with these probes revealed uncoupling uf subunit activities dring Pseudomonas syrningae infection. For more infomration, See Misas-Villamil et al., Plant J. 2017 pubmed.
August 2014
In MCP: Broad-range glycosidase profiling
Activity-based probes for glucosidases also label the active sites of dozens of other glycosidases! We show that these probes are broadly applicable on various plants, sub-proteomes and living cells. More...
NOVEMBER 2016
Declared a Highly Cited Researcher, according to Thomson Reuters! In the UK, there are only 16 researchers in the field of Plant & Animal Science rewarded with this title. For the full list, check here.
June 2014
In New Phytologist: Hydrolases precede hypersensitive tissue collapse.
Activity-based protein profiling was used to describe the active hydrolase content of tomato seedlings undergoing hypersensitive cell death. Differential hydrolase activities precede tissue collapse and are also found in plants infected with the fungal pathogen Cladosporium fulvum. More...
OCTOBER 2016
Three team members have run the Oxford half marathon and broke their personal records. Kyoko finished at at 1:50:43, Judith at 1:56:59 and Marcel at 2:03:29 (partly on one leg). Well done everyone!!!
January 2014
In Science: Potato blight lineage adapted to new host proteases.
A collaboration with the laboratory of Sophien Kamoun (Sainsbury lab, Norwich, UK) resulted in the discovery of the molecular details of host adaptation of a Phytophthora infestans lineage that jumped onto a different host species about 1300 years ago. The protease content of this new host species is different, which forced the pathogen to adapt its protease inhibitors. A single amino acid residue exchange underpins host adaptation and is associated with a reduced ability to manipulate the proteases from the former host. Published in Science. Comments published in Science, The Scientist, and Oxford Media.
SEPTEMBER 2016
'Springwalk' in the Valley of the White Horse. We had fantastic weather!!!
December 2013
An ERC-CoG-2013 consolidator grant has been awarded to Dr. Renier van der Hoorn for his 'GreenProteases' proposal with the full title: 'The proteolytic machinery of the plant apoplast: from basic understanding to improved recombinant protein production. The EU wil sponsor this project with 2.038.196 euro for a period of 5 years.
AUGUST 2016
PtoDC3000 produces Cys protease inhibitor Cip1!
Pseudomonas syringae pv. tomato DC3000 (PtoDC3000) produces an inhibitor targeting secreted Cys proteases of its host, tomato. We coined this chagasin-like inhibitor Cip1 and it evades recognition by the Rcr3/Cf-2 system, possibly by its low affinity for Rcr3. This is the fourth unrelated pathogen-derived inhibitor targeting the same secreted Cys proteases of the host. Previously identified inhibitors were from a tomato-pathogenic fungus (Avr2), oomycete (EpiCs) and nematode (Vap1). Click here for more information.
September 2013
In MCP: Monitoring the ATP binding proteome
Many protein activities are driven by ATP hydrolysis. We monitored ATP binding activities of the Arabidopsis proteome using Acyl-ATP probes that label conserved lysine residues in ATP binding pockets. We discovered that these probes label a diversity of protein kinases, including receptor-like kinases, MAP kinases, calcium-dependent kinases and PTI-like kinases. More…
APRIL 2016
We organized a exciting Conference on Plant Proteases in Somerville College, on 10-12 April 2016.
These 86 participants represent >40 research groups and work on diverse topics in plant biology but face common challenges on unravelling the action and substrates of plant proteases.


March 2013
In PLoS Pathogens: Pathogen enters wounds by inhibiting host proteasome
Pseudomonas syringae pv. syringae is an epiphyte that occasionally causes disease upon wounding by hail, frost, strong winds and sand storms. We discovered that these bacteria enter wound sites and colonize adjacent tissues by producing proteasome inhibitor Syringolin A (SylA). SylA diffuses from the primary infections site and blocks salicylic acid (SA) signalling in adjacent tissues, creating an SA-insensitive zone that is ready for colonization. More…
MARCH 2016
John Fell Funding awarded to Plant Chemetics lab
The John Fell Fund has awarded 75k£ to establish quantitative hyper-reactive cysteine profiling in Oxford and apply this technology to investigate how the proteome of a bacterial plant pathogen responds to a host-generated oxidative burst.
April 2013
In Chem & Biol: Probing functional tyrosines
We discovered that besides serine proteases, probes based on serine protease inhibitor AEBSF also label many other proteins, often at tyrosine residues residing in active sites, indicating that these 'reactivity probes' highlight functional tyrosines in proteomes. Indeed, labeling of glutathione S-transferases (GSTs) occurs on a single tyrosine that is not conserved in the substrate binding site but nevertheless essential for GST function. More…
FEBRUARY 2016
In ACS Chemical Biology: cofactor suppresses active site labelling.
We uncovered a strong correlation between enzymatic activity and active site labelling for aldehyde dehydrogenases, with one remarkable exception: nicotinamide cofactors suppress active site labelling. Read more here.
February 2013
In Plant J: A new tool for studying vacuolar processing enzymes
Vacuolar processing enzymes (VPEs) are legumain-like cysteine proteases involved in programmed cell death and protein processing. We introduce a specific, activity-bases probe to detect VPE activities in living tissues of different plants and discovered that VPE activity is upregulated upon infection with an oomycete pathogen. Interestingly, oomycete infection benefits from VPEs, probably by supporting their biotrophic lifestyle. More…
NOVEMBER 2015
Announcement of International Conference on Plant Proteases
This 3-day conference will be held in the centre of Oxford, April 10-12 2016. For speakers, venues, registration and other information, please visit www.plantproteases2016.com.
February 2013
In Chem & Biol: Tracing bacterial effector in action
Plant pathogenic bacteria manipulate their host by injecting effector proteins. One of these effectors is AvrPphB, a cysteine protease that cleaves host kinases involved in immunity. Inspired by the unique substrate cleavage specificity of AvrPphB, we designed an activity-based probe that targets this protease. We used this probe to demonstrate that the prodomain of AvrPphB is required for secretion and its removal required of activity in the host cell. More…